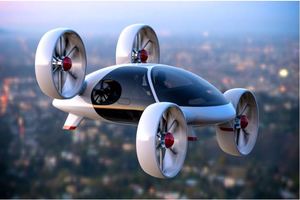 Posted on :Friday , 9th March 2018
The McFly.aero blockchain project is starting the set up of transportation for air taxis service in 23 cities in 13 countries. Nairobi has been recognized as one of the launch cities for this ambitious flying cars project.
This is going to be a 2 part business project, the first part being a technological consortium of 12 companies that are currently developing the fundamentals of the city air taxis, , across the flying cars. This is would be managed by energy and traffic management infrastructure, Vertical Take-Off and Landing (VTOLs).
The second involves building local communities called McFly Chapters, which is going to plan at community engagement that would get people to share information on the project, thus, brining industry experts to share research and entrepreneurs to establish local connections with manufacturers. This would also bring in the real estate partners for landing pads and even government bodies for registration.
This project is expected to provide new business opportunities, engineering and drone experts, and production of hardware and software for the blockchain-powered IOT for the urban air Taxi infrastructure.
McFly's lead community manager Nikolay Bezhko said that VTOLs will be driven by auto-pilot to improve safety.
"The VTOL autonomy will be implemented over time as users and regulators become more comfortable with the technology and see statistical proof that autonomy provides greater levels of safety than human pilots," he said.
The idea is that passengers will be picked up at the nearest helipad or heliport to their pick-up point and dropped at the nearest pad to their destination, and will take a 5-10-minute walk at either end. Unlike helicopters, the cars will be efficient in fuel use, noise and safety, said Bezhko.
He said the initial production cost will be $120,000 (Sh12m) per vehicle, but will come down to $30,000 (Sh3m) to $40,000 (Sh4m) once they go into mass production.
The rides would have an indicative price of $8 (Sh800) per minute. However the price structure would be based on the grid's load and transactions will be made in McFly tokens on the blockchain.
The other countries that have also been identified and targeted for this project are – US, France, Ukraine, Belarus, Russia, India, Australia, Japan, Nigeria, Panama, Spain, Mexico, Indonesia, and Nepal.
One of the members in consortium is working on the traffic management systems that would use these identified city airspaces for up 1,000 meters above the ground. This happens to be the flying height limit for the VTOLS. Prior to any VTOL can operate they would need to fulfill all the registration formalities for the relevant authorities in each city/country of operation.
Nikolay Bezhko confirms, these vehicles would either be on an autopilot mode or would have the passenger pointing directions. He further adds, that there are 2 designs – (1) Bartini, flying at 300km per hour and (2) Hepard, which can fly at 150 Km per hour. Both of these designs have a flight time of 30 Minutes.
The market for air taxi services is projected to reach $1.2 trillion per annum in the next few years, with more than 20 companies, including Daimler Ventures, Boeing, Geely/Volvo, Tencent and Atomico Ventures, now working on VTOLs.
They will be electric or hydrogen powered and manufacturers will have the first test flights between March and May 2018.