Media/Press Releases
The event is very well advertised and promoted on all platforms as follows :
Email Campaigns

Newsletters

Flyers

Billboards & Hoardings

Road shows

Email Invitations
Media coverage on TV channel
Published on 9th November, 2019
Media coverage on TV channel
Published on 9th November, 2019
Media coverage on TV channel
Published on 9th November, 2019
Media coverage on local NewsPaper
Published on 8th November, 2019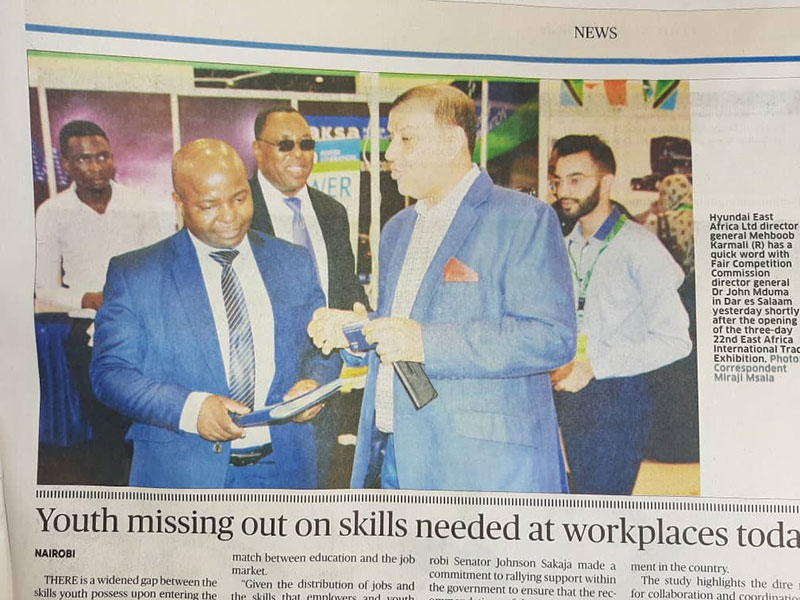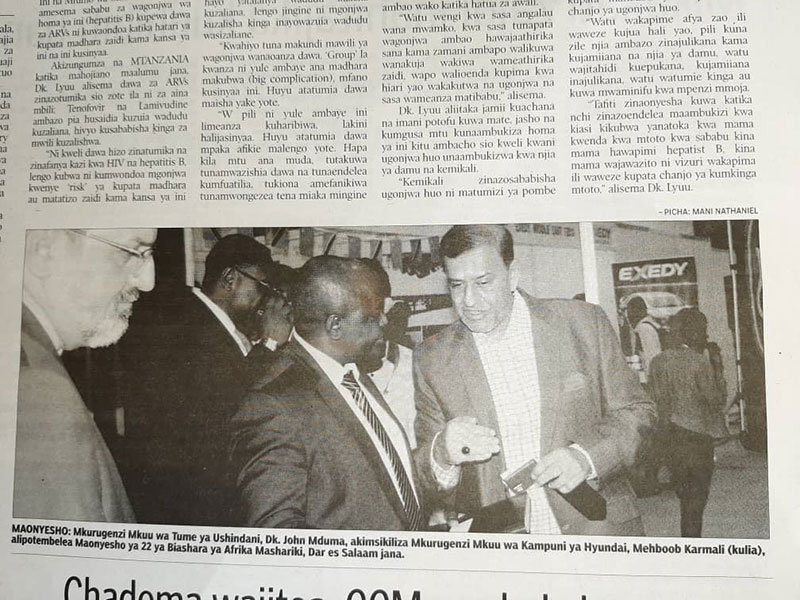 Event Advert on local NewsPaper
Published on 06th November, 2019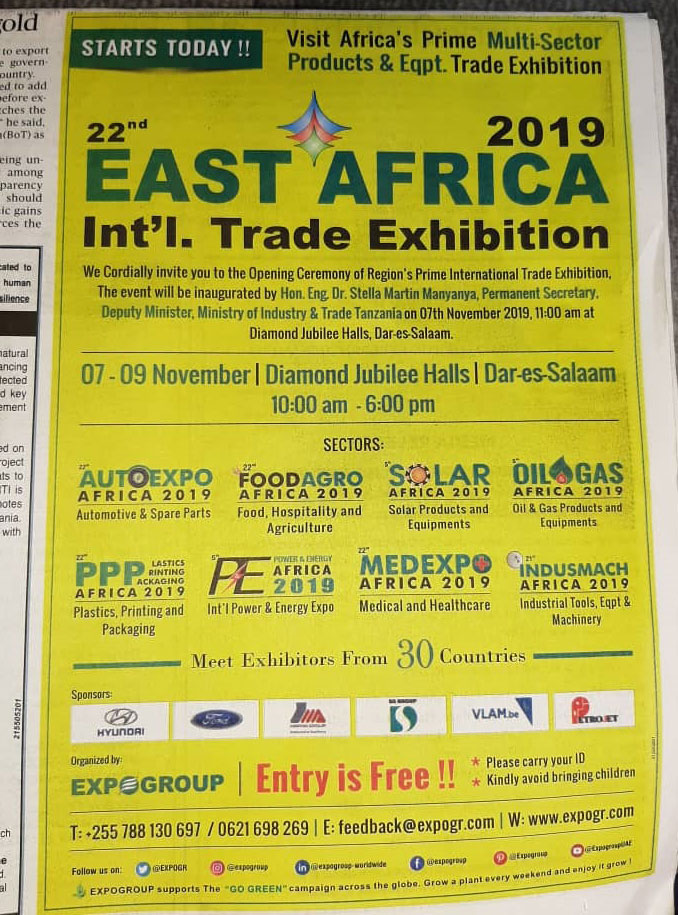 Autoexpo Tanzania 2019 - Published on Dar Advertising Magazine
Published on 11th October, 2019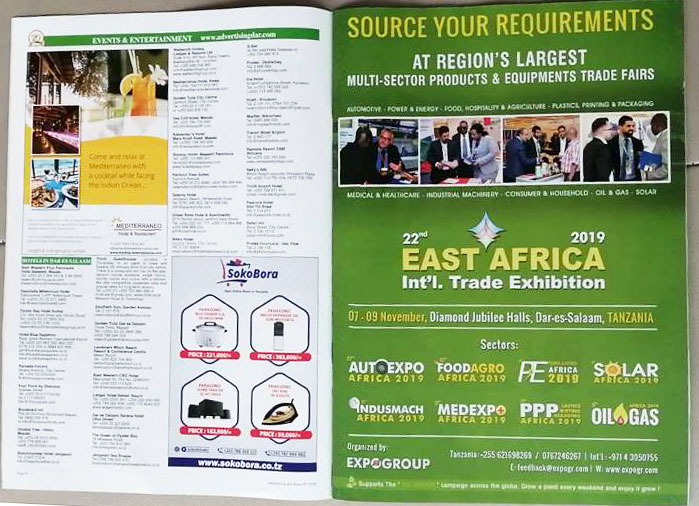 EVENT ADVERTISING - BILLBOARDS
Published on 27th September, 2019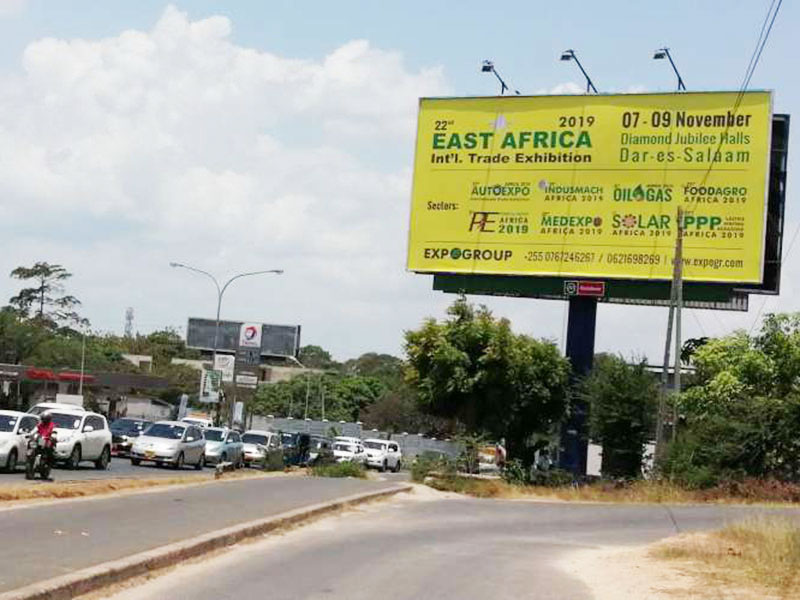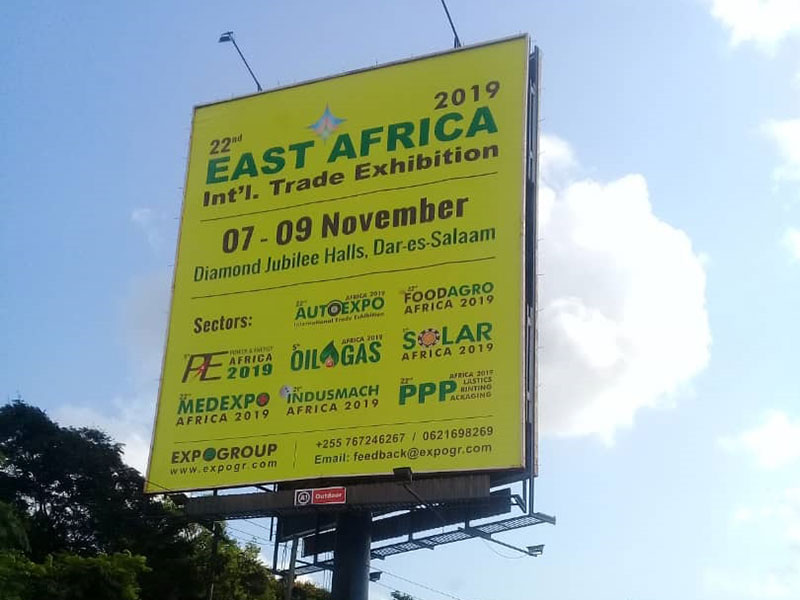 Event Coverage on local news channel EATV.
Published on 21st Nov, 2018
Media coverage on local NewsPaper - The Citizen
Published on 14th Nov, 2018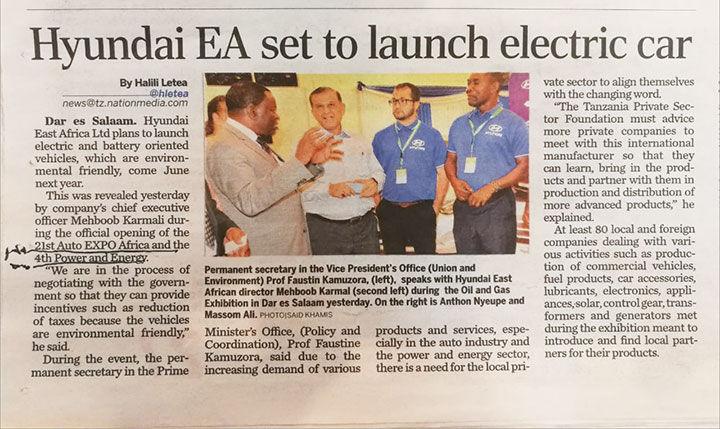 STARTS TODAY - 21st AUTOEXPO TANZANIA 2018
Published on 13th Nov, 2018
EVENT ADVERTISING - BILLBOARDS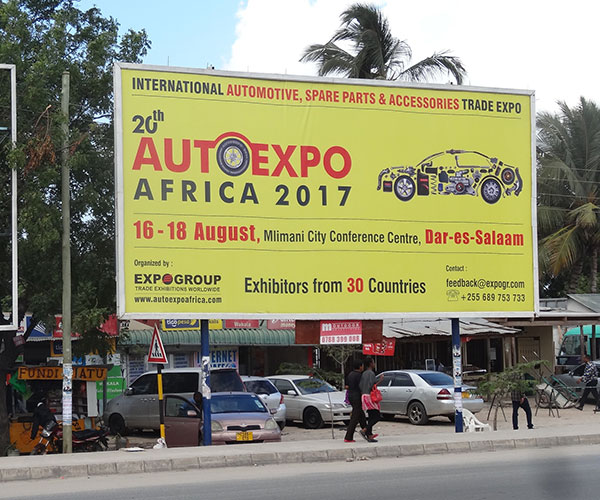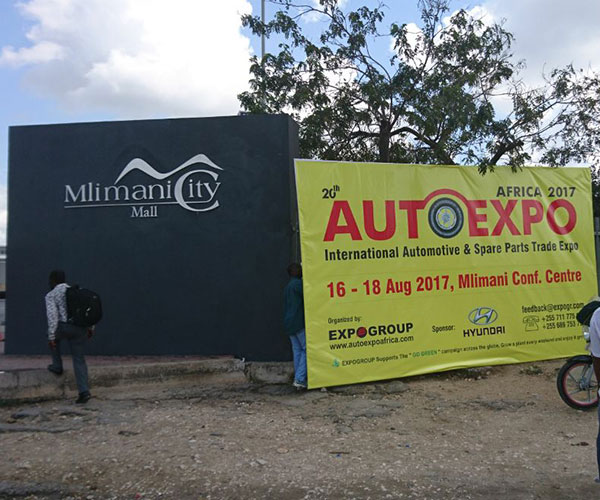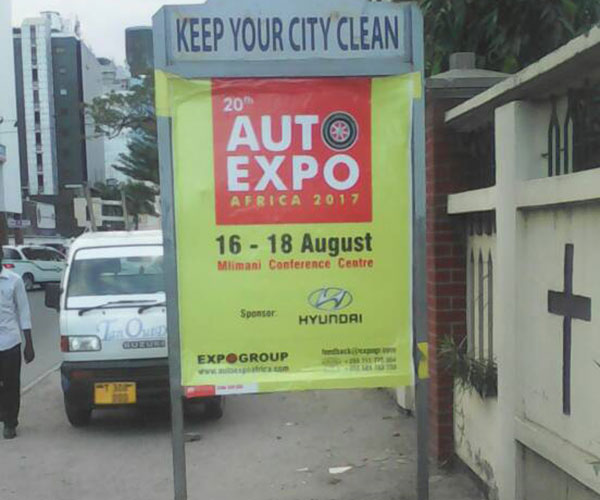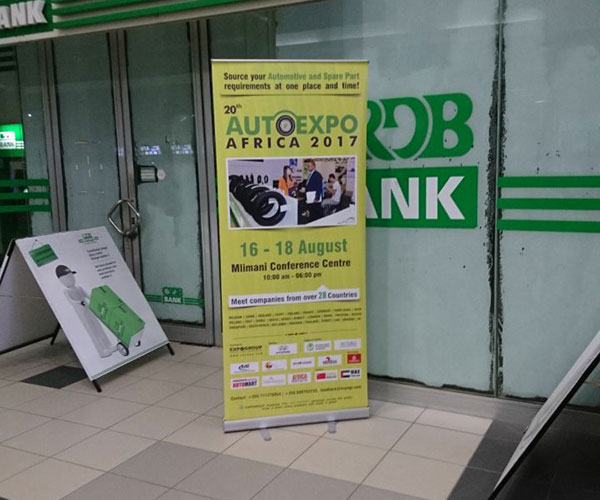 AFRICA'S MOST DYNAMIC AUTOMOTIVE & SPAREPARTS EXHIBITIONS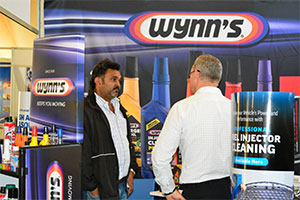 AUTOEXPO KENYA: 11th – 13th April – KICC, Nairobi, Kenya
AUTOEXPO ETHIOPIA: 12th – 14th May – Millenium Hall, Addis Ababa, Ethiopia AUTOEXPO
TANZANIA: 16th – 18th August – MCC, Dar es Salaam, Tanzania
EXPOGROUP WORLDWIDE brings to you another edition of the hugely successful AUTOEXPO AFRICA, to be held in Kenya at the Kenyatta International Conference Centre (KICC), Nairobi from 11 - 13 April, 2017; in Tanzania at the Mlimani Conference Centre, Dar es Salaam from 16 - 18 August, 2017 and in Ethiopia at the Millennium Hall, Addis Ababa from 12 - 14 May, 2017.
The automotive industry in Africa is forecast to grow between 3% and 3.7% in 2016 with East Africa retaining its position as the fastest growing region on the continent. The opportunities for the automotive industry in Africa are looking increasingly attractive, driven by growing local manufacturing, better infrastructure and strong economic growth. Experts see automotive manufacturing and assembly as key industries to drive the economy as global automotive manufacturers turn to the African market to produce vehicles due to local content promotion policies instituted by countries like Kenya, Tanzania, Nigeria and Ethiopia.
Now in its 20th year as an international event, AUTOEXPO AFRICA is among the most prestigious auto and spare part shows in the world, providing unparalleled access to the products, technologies, innovations, people and ideas that matter most – up close and under one roof. The 2017 event promises to be even bigger and better with new features added to the show.
As a proven platform for business transactions, the event will showcase the latest developments in the automotive industry, with prominent industry experts, stakeholders and decision makers in attendance, making it an ideal event to source new products, network and usher in new contacts and business opportunities.

On the occasion of its 20th anniversary in the industry, Expogroup expands its growing presence in East Africa with the launch of AUTOEXPO AFRICA in Ethiopia. Ethiopia has one of the fastest growing economies in Africa and possesses huge potential for investors and businesses looking to tap the market. This coupled with a favorable business environment and sound infrastructure, make it an attractive option for international companies.

Come be a part of this change!!!

For more information on these events please visit: https://autoexpo.expogr.com/
AUTOEXPO - 2017 AFRICA
20th edition of AUTOEXPO-2017 gives professionals a way to make the most of this unique opportunity to meet and reinforces successful strategy based on three key themes: more business, more services and more events. It will take place from 07th- 09th July at the Mlimani Conference Centre in the capital city of Dar-Es-Salaam, Tanzania.
Trading & Sourcing will be open to all exhibitors, individuals and national pavilions, targeting large buyers and the distribution industry in particular. Open for three days to better meet the needs of international customers. AUTOEXPO-2017 will host exhibitors internationally and locally in a combined space of over 3115 sq meters. We aim at gathering positive energy to propel co-operation and innovation.
Fast tracked industrialization and modernization currently sweeping through many African countries has resulted in an increased demand for capital goods such as machinery, lubricants, spare parts, ball bearings and other automotive mechanical goods and accessories. The market for automobile spare parts, in particular, has been an attractive sector for global exporters, as Africa has witnessed a remarkable increase in imports by 30%. This is a perfect time to enter the African market. With large number of crowd the potential of the exhibitors to find a perfect buyer is tremendous. The automobile industry has grown so vast in this last few years that right now due to excessive demand even the smallest of business can enter and flourish in the African market. AUTOEXPO is expected to get visitors from the entire African subcontinent. Everyone can find that perfect venture where relationship can be formed to benefit both the parties involved. It ill host some of the latest technologies, modern technique and efficient way of handling automobile industry. In the end this skill and knowledge is utilized to benefit the consumers.
The emphasis is on green technology. The pressure on the industry to produce eco friendly automobiles is very intense. Africa striding towards modernization but its wish to maintain nature at its prime has forced companies to innovate technology that has low consumption of fuel, reduced emission and other factors that will produce a healthier environment for its people. We will give you a perfect platform where you will find all of this together under one roof. We aim to provide awareness to every visitor who walks into AUTOEXPO so that he is enriched with knowledge and has access to the latest and best in the industry when he walks out.
As the African automotive industry moves to the next stage of its development, AUTOEXPO also enter a maturity stage. With a focus on the entire automotive supply chain, AUTOEXPO fully demonstrates its confidence of auto show, while further exploring the culture of the industry. AUTOEXPO is striving to develop itself as one of the world's leading auto shows.
For more details view:
autoexpo.expogr.com/
Email: