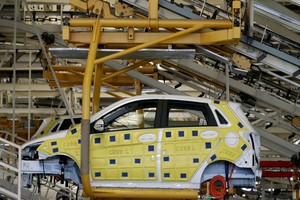 Posted on :Tuesday , 30th April 2019
Reginald Mengi an industrialist based in Dar-es-Salaam signed a deal with a South Korean firm to set up a vehicle assembly plant in the country. The $10 million deal between Youngsan Glonet Corporation and Mengi's IPP Automobile Company Ltd will make it the second vehicle assembly plant in Tanzania. The other one is a Polish tractor assembly plant at Kibaha called Ursus. Mr. Mengi, the IPP group executive chairman, also shows immense interests in developing the automotive sector of the country.
After signing of the deal, Mr. Mengi announced that the plant, to be built at Kurasini, will be up and running by September 2019. It is expected to assemble around 1,000 vehicles per year he added. It targets sports utility vehicles, buses and commercial and construction trucks. 500 employees in distribution and sales in Tanzania, Rwanda, Kenya, Uganda, Zambia and Malawi. The plant is expected to directly employ at least 500 people. Import of parts has already begun for the assembly of Hyundai, Kia and Daewoo vehicles, according to IPP Automobile chief executive Godfrey Bitesigirwe.
In establishing car assembly plants in the region Tanzania joins Rwanda and Kenya. In Kenya and Rwanda, Volkswagen is operating two car plants. With three assembly plants, Kenya is the region's leader in motor vehicle assembly. It is home to Mobius, a mass market vehicle specifically designed for Kenyan roads.
In Uganda, Kiira Motors Corporation has its vehicle assembly in Kampala and hopes to manufacture all the parts to assemble its Kayoola electric bus by 2039. Through the establishment of the Regional Automotive Industry Platform of East Africa, countries in this region are moving towards an integrated automotive market. Manufacturers are investing in the region in both assembly and component products to meet the supply requirments of the global automotive industry.
At their 19th Ordinary Meeting held in Kampala in February last year, the heads of state directed the EAC Council of Ministers to explore the possibility of developing the automotive reducing import of used vehicles from outside the region and thereby make the region more competitive industry. The new platform (Raipea) aims to help the region save more than $2 billion in car import costs annually. Currently, Tanzania has a 10 year limit for imported used cars, Kenya has an eight-year age limit, and while Uganda has a 15-year limit. To finalize talks on proposals to lower the age limit for imported used cars to five years by 2021 the region is racing against time.