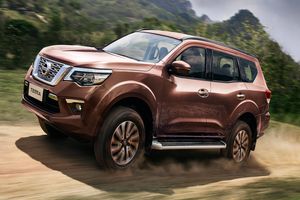 Posted on :Tuesday , 26th April 2022
NISSAN Motors Tanzania expects to sell up to 500 cars in the Tanzanian market this year, as part of its commitment to assisting Tanzania's economic growth by offering flexible and all-terrain transportation requirements.
According to Nissan Tanzania Sales and Marketing Manager Alfred Minja, the Covid-19pandemic had a significant impact on the automobile sector by disrupting worldwide production and sales.
This year, we want to sell 400-500 brand new units in Tanzania. "The Nissan Terra has had a very positive response, as we have already sold five units in the first week of its market release, and we are still getting orders," he stated during the unveiling of the Nissan Terra cars.
He stated that Nissan sold 362 brand new Nissan models last year out of a total of 2000 brand new units sold by various automakers in the country.
Speaking at the occasion in Dar es Salaam, Nissan Tanzania Managing Director Mark Van Rooyen praised the government's efforts to enhance the business operating climate, noting that such efforts will be rewarded in the near future.
We applaud President Samia Suluhu Hassan's efforts to improve the economic climate. "Her efforts, we hope, will be rewarded handsomely in the shape of more investment in the nation, which will result in more jobs. Nissan Tanzania is entirely committed to aiding Tanzania's development efforts," he stated.
Rooyen remarked of the recently launched Nissan Terra, "It has a dramatic new look and designed-for comfort spaciousness developed with breakthrough engineering and cutting-edge Nissan Intelligent Mobility (NIM) technology that give greater driving experience and adventure."
"The all-new Nissan Terra is built to withstand any terrain. The vehicle is designed for families to travel on the world together, with comfort, flexibility, power, style, and SUV presence. "It is available in Tanzania for a starting price of 172m/- VAT inclusive," he stated.
Due to the rising vehicle industry, the corporation revealed a strategy in November last year to enable the construction of an assembly plan.
The idea was presented by company chairman Tim Jaques during the unveiling of the Nissan Navara truck, who stated that discussions with authorities on the plan were ongoing since the country provides a favourable environment for investment.
"We are willing to engage in discourse, but we are also eager to contribute to national economic progress, since we have been in Tanzania for some years and have seen strong signals of a thriving motor vehicle sector," Jaque was quoted as saying last year.