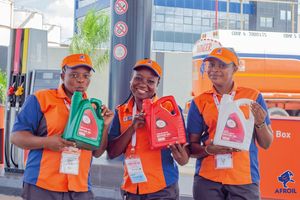 Posted on :Thursday , 28th July 2022
Toyota Tanzania Limited has inked a three-year agreement with oil marketing business AFROIL to distribute its new lubricant, Toyota Genuine Motor Oil (TGMO).
According to Anam Mwemutsi, Lubricant Manager of Toyota Tanzania, the TGMO was introduced in Tanzania in response to market input on improving the company's products' effectiveness.
"Most Tanzanians use Toyota automobiles, but they use other lubricants; based on market input on the performance of their engines, we developed this suggested oil by our firm that will work well with their vehicles," he explained.
According to Mwemutsi, the oil has a strong, thin coating of protection that allows the engine parts to operate together, as well as the ability to close the space between the piston and the cylinder wall.
"The lubricant assures economy in oil consumption, dependability, lifespan of the vehicle by neutralising acids such as rust produced during combustion, flexibility, and oxidation when the engine is heated," he added.
In his remarks, AFROIL executive director Lutfi Binkleb stated that as a local firm that has been operating in Tanzania for over 14 years, they are excited to work with a world-famous brand like Toyota.
He went on to say that they have stations in every section of the country, and that the distribution of the goods is mostly determined by the demand for the product in that area.
They claim that the three-year agreement is only the beginning, and that there is room for an extension beyond that.