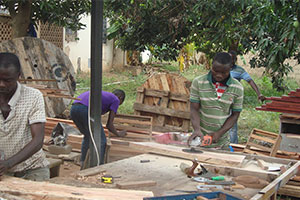 Posted on :Monday , 26th July 2021
Indirectly and directly, Kenya's wood sector serves approximately 500,000 Kenyans, with the lumberjack trade also serving as a backbone for the country's building industry. There are a number of variables that are leading to an increase in the demand for wood in Kenya.
It is predicted that Kenya's economy would continue to develop at a high pace. Kenya has a population of more than 48 million people and is undergoing rapid urbanization.
Kenya's construction sector is one of the critical foundational pillars upon which the core pillar of Kenya's Vision 2030 program is expected to be realized. Nairobi is one of the fastest growing cities in the world, and its real estate market is one of the fastest expanding in the world as well.
Many international corporations and organizations have selected Nairobi as their regional organizational base for executing and monitoring activities throughout East Africa.
The Affordable Housing Project, which is one of the President's Big Four Agendas, is critical to the development and expansion of the country's real estate sector. As a result, the development of the real estate market might partly mirror the development of the country's total wood industry.
With Kenya's expanding population and fast urbanization, demand for housing and business accommodation is increasing at the same time. When we move into a new home, we have a natural propensity to think about obtaining new household items such as a bed to sleep on, wardrobes for our clothing, chairs, a dining table, sofas, kitchen cabinets, and various types of furniture. The country's rising middle class is boosting their standard of life as their income rises, which naturally benefits the furniture industry.
The Kenyan furniture sector is still in its early stages and requires considerable investment. Aside from that, there are several opportunities for major furniture manufacturers to establish a distribution network in the nation. Trading firms in Kenya typically follow the "One Company, One Brand" guideline, which allows them to focus on selling and marketing one brand at a time while doing it full justice. Kenya must also manufacture and import high-quality timber for the furniture sector. The Kenyan government is tackling this issue with the goal of expanding forest cover by 10% and making it easier for investors to do business. The government is also attempting to encourage private development of plantations of various wood species used in furniture manufacturing.