Media/Press Releases
The event is very well advertised and promoted on all platforms as follows :
Email Campaigns

Newsletters

Flyers

Billboards & Hoardings

Road shows

Email Invitations
ADVERT IN NEWSPAPER
Published on April 16, 2018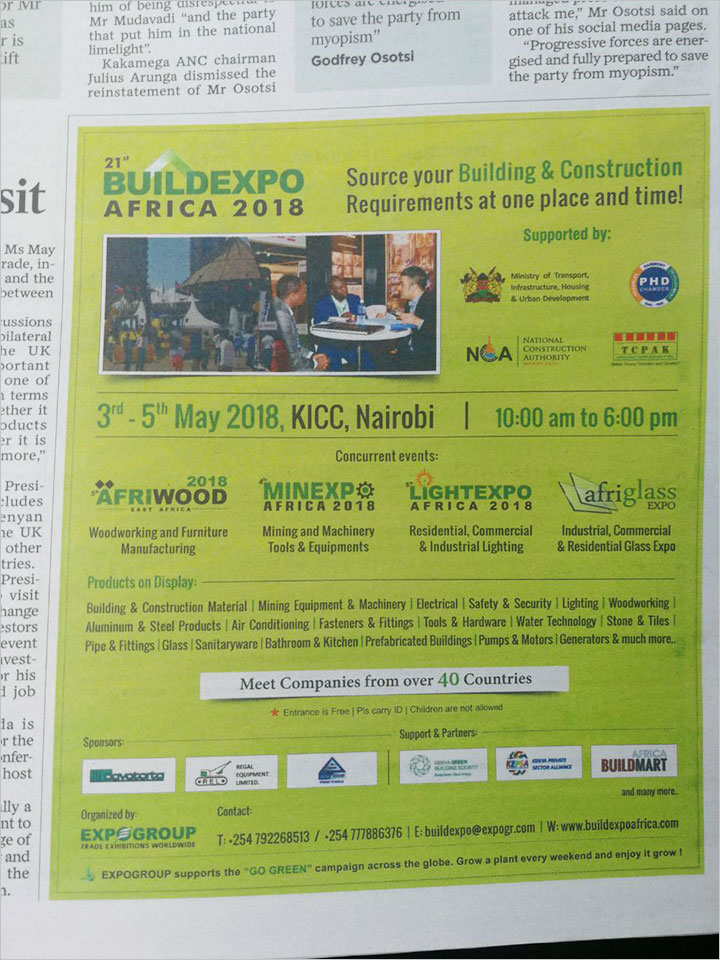 Excellence in innovative building and technologies awards 2018
Published on 19th March, 2018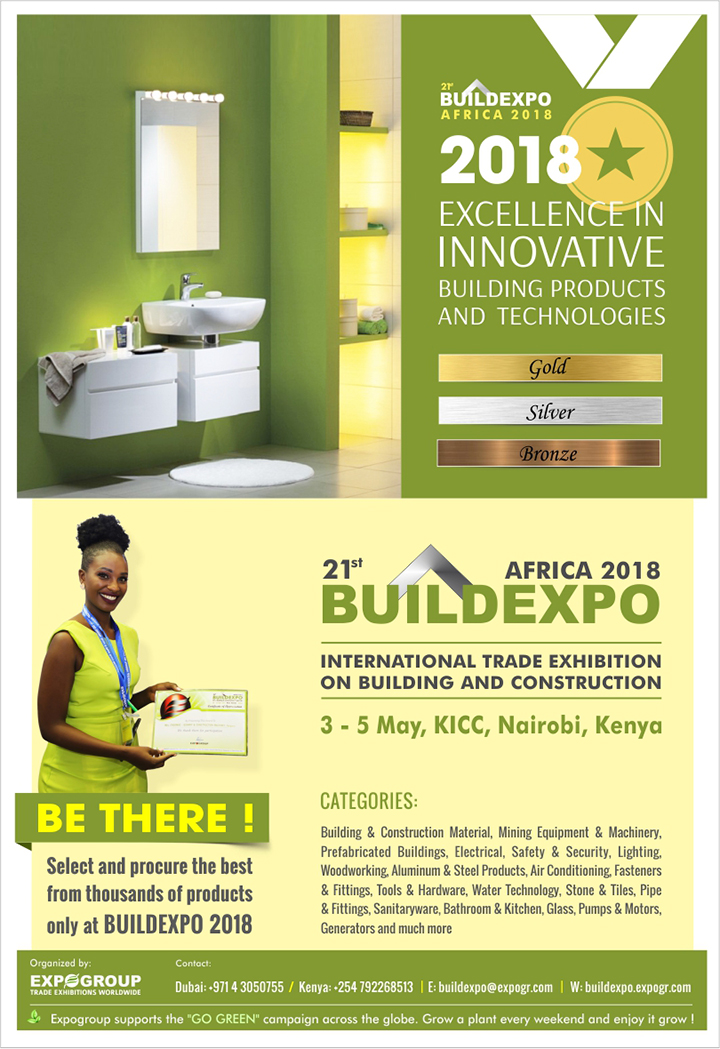 AFRIWOOD 2017: Analysing the Opportunities in Kenya's Wood Industry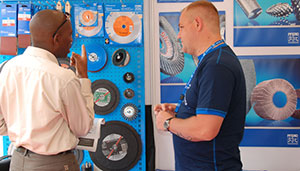 Wood plays a major role not just in the wood product industry of saw timber and veneer production but is also closely linked to a number of other important industries such as the paper industry, chemical industry, food manufacturing industry and the construction industry.

Kenya is a net importer of wood based products and articles as imports last year amounted to $150 million while exports, mainly to neighbouring African countries like Tanzania, Uganda, Rwanda and Ethiopia, brought in $27 million. Demand for timber in the East African nation currently stands at over 38 million cubic meters per year.

Another study indicates that Kenya has a wood supply potential of 31.4 million cubic meters against a national demand of 41.7 cubic meters. The discrepancy in supply and demand hence stands at a whopping 10 million cubic meters. Furthermore an industry forecast for 2032 suggests supply to increase by 20% but demand to also increase by 21.6% indicating a gradually increasing deficit.

As the spending power of Kenya's middle class continues to grow fuelling demand for houses and rentals, the construction industry is witnessing a massive boom. Demand for timber in this sector is very high and most times supply cannot keep up with the huge demand. In short Kenya's wood industry is abounding with expansion prospects which along with the use of modern technology can increase production considerably.

In this spirit, Expogroup will be organising the 4th edition of Africa's premiere wood & furniture manufacturing exhibition, AFRIWOOD 2017 at the Kenyatta International Conference Centre (KICC) in Nairobi from 20th to 22nd April, 2017.

Trade visitors, professionals and serious buyers from all over the continent will use AFRIWOOD as an opportunity to strengthen ties with new customers, network and catch up on the latest technologies. Being a highly specialized show, AFRIWOOD provides an excellent opportunity for local and international companies to showcase their products and build new strategic relationships with buyers, traders and investors globally.

Expogroup has been organizing some of the largest international trade exhibitions in Africa. Since its inception 20 years ago, Expogroup has organized expos in Kenya, Tanzania, Ethiopia, Ghana and Nigeria; showcasing over 500+ companies from around the world and garnering record footfalls at each exhibition.

For more information on AFRIWOOD 2017 please visit: www.expogr.com/afriwood/index.php
Africas Largest International Wood Industry Expo Returns- Afriwood 2017
After the success AFRIWOOD has seen last year, It is all set to be back again from the 20 - 22 April 2017 at KICC, Nairobi Kenya. As Africa's largest International Wood Trade Exhibition, will bring together Domestic and International players in the market to the targeted buyers from across the East Africa that are seeking to expand in the wood industry and to keep abreast of industry trends and developments
Organised and presented by EXPOGROUP in collaboration with several regional trade bodies in Kenya, Tanzania, Ethiopia, Uganda, Somalia, Mozambique & Congo. Though Kenya by itself is one of the biggest markets in Africa, major emphasis is being laid upon attracting traders and importers from neighbouring countries aswel
Afriwood 2016 had attracted participants from over 18 countries, over 200 brands, representatives of different profiles and directions of the wood industry from Africa and foreign countries and a flow of trade visitors from all over East & Central African countries
Expogroup is very pleased to return with AFRIWOOD 2017, The opportunity to have these facets of the woodworking industry in one place and at one time will offer huge sales potential to exhibiting companies and convenience for all trade visitors.
Main sections of the exhibitions include woodworking equipment of different capacities, woodcutting tools, materials for wood care and professional materials for furniture refinishing, wood drying equipment. By tradition, the exhibition represents the latest achievements, technologies and developments of woodworking branches, innovative methods of wooden house construction industry and furniture production. Visitors will find the latest and most innovative products and equipment in the Wood Industry at the highest rate of efficiency.
Afriwood 2017 will allow exhibitors to connect with Eastern African woodworking market. This event will attract commercial wood industry manufacturers and entreprenures, commercial furniture manufacturers, architectural woodworkers, door and stair manufacturers and the list goes on, This event will have the machinery, hardware and accessories needed to transform wood into these much sought after products, We are looking forward to present this event to the vast wood processing market explains Exhibition Manager
Last year Afriwood attracted a huge number of Wood equipment manufacturing & distribution companies to showcase their innovations, technologies and products. Both exhibitors & visitors receive the personalized attention in the show, hence making Afriwood more eminent!
So heres to all those who are connected to the Wood Industry to mark your calenders with the AFRIWOOD dates and be there to witness and grow with the best in the Industry
Contact person: Jason Dexter ( jason@expogr.com/ feedback@expogr.com )
For more details view woodexpo.expogr.com
For an urgent response, please email on feedback@expogr.com,