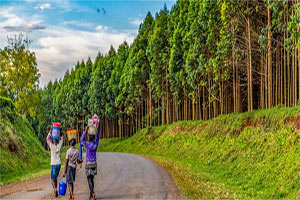 Posted on :Tuesday , 2nd August 2022
Komaza, a tech-enabled, sustainable forestry company that is reshaping the African wood market through its ground-breaking smallholder platform, has closed the first round of its anticipated 33 million USD Series B equity funding, amounting to 28 million USD. This fundraising round was co-led by Novastar LPs AXA Investment Managers and the Dutch development bank FMO, with additional participation from Mirova's Land Degradation Neutrality Fund, and sustained investment and assistance from its Series A lead Novastar Ventures.
With 25,000 smallholder farmers, the Kenya-based company has planted over 6 million trees to date, nearly doubling Kenya's yearly rate of commercial tree planting. The business ranks among Africa's top commercial tree planters based on this rating. The "microforestry" approach developed by Komaza heralds a paradigm shift in the sector from expensive, expansive plantations to decentralised alliances with nearby farmers. For every acre planted, this change results in a cost disruption of 80% compared to traditional plantations and significantly more land is made available for forestry activities, particularly those carried out by farmers in close proximity to large towns.
While remote operations make administration more challenging, Komaza has overcome these problems with planning and coordination using AI, satellite data, and real-time mobile apps on the ground to monitor farmer progress and map existing tree growth.
With this most recent investment round completed, Komaza is well on its way to achieving its 2030 target of planting one billion trees, benefiting over 2M farmers in Sub-Saharan Africa and doubling the amount of trees already present throughout all of its operating landscapes.
Our goal at Komaza is to become the largest forestry industry in Africa by working with farmers to create a domestic wood supply that is both highly scalable and sustainable. As a result, investors receive commercial profits and farmers receive a climate-resilient, risk-free source of wealth creation for their family, all while lessening the severe pressure on the remaining natural trees.
A new, highly scalable approach to conservation is represented by Komaza, who is backed by Conservation International. This method prioritises economic development and livelihood creation over environmental restoration, and it emphasises forestry as a viable option for reducing climate change.
'Our relationship with Komaza provides a practical model for balancing the interests of local people with global aspirations to combat climate change, conserve ecosystems, and preserve their intrinsic biodiversity,' claims Jonathan Dean, Head of Impact Investing at AXA Investment Managers. Communities will be empowered to not only contribute to the preservation of regional biodiversity but also to generate an additional source of income through partnerships with farmers and a tight interaction with the supply chain.
This invention arrives at a crucial juncture for addressing climate change and the loss of biodiversity. Natural climate solutions only receive less than 3% of global climate investment, despite having the greatest promise at the lowest cost. Commercial win-win models like Komaza are crucial to releasing the enormous support potential of traditional capital markets, which is especially important given that reforestation is expected to become a big subject at Davos this year.
Principal Investment Officer at FMO Annette Berendsen stated: 'We are really happy to be a direct shareholder in Komaza. We chose to invest because of the management's conviction and tenacity, the company's successful history of planting trees, and its clever proprietary operating systems. With the help of this round of funding, Komaza will be able to build on its current capabilities, achieve scale, and revolutionise African forestry.'
Gautier Quéru, Director of Mirova's Land Degradation Neutrality Fund, adds that "land restoration is a significant task but also a real opportunity." We need creative businesspeople like Komaza to scale up appealing ideas that can actually benefit both people and the environment.
Utilizing its Series B funding, Komaza intends to grow from its first location on the coast of Kenya to two other locations around East Africa. To increase its selection of premium, environmentally friendly building materials, the company will invest in additional wood manufacturing facilities. In order to boost enrolment and broaden farmer access to best practises, Komaza intends to launch a new direct-to-farmer app. Additionally, they will expand on the success of a recent remote sensing and AI pilot project for automated agricultural monitoring.
According to Steve Beck, founding partner at Novastar Ventures, "In the three years since we closed the Series A financing, Komaza has proved the capacity to execute and build its distinctive, tech-enabled microforestry business model." "This historic Series B financing gives the business the strength it needs right now to replicate and develop across Africa."