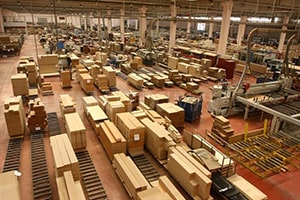 Posted on :Monday , 4th September 2023
The initiative for aggregation and industrial parks, which is aimed at 27 Priority Counties, would soon enable Nairobi City County Government to establish the Nation's First Wood Furniture Business. Executive, commercial, and hustler opportunities Nairobi City County was one of the 27 Counties selected to execute along the CAIPs project, as stated by Maureen Njeri, and financing for it has been granted for the current fiscal year. A Wood Furniture Aggregation and Industrial Park will be the project we're going to be working on. The project designs are being completed at the present time stated by Njeri.
The manufacturing of high-quality, standardised flash doors and other products will assist the furniture and wood industry, especially during the construction of Nairobi's affordable housing units, and contribute in the creation of employment opportunities in line with Governor Johnson Sakaja's Manifesto of Opportunities for All in Terms of Employment Provision. The project's architectural designs are currently accomplished, and the engineers are currently working on the project's structural, civil, and electrical additional information. The objective is to conclude the master plan and the detailed designing by the end of August, according to Mr. Godfrey Akumali, the acting chief officer for markets and trade. The quality of items produced will compete in larger markets because of the growth of talent, transfer of technology, training, and capacity building, leading to greater revenue for the county. Others include Eng. Karani Njeru, the project chairman, Mr. Cavin Otieno, the grants manager for Strathmore University, Ms. Elizabeth Njau, the director of trade and industries, Mr. Ian Mong'are, from the state department of housing and urban development, and Mr. Malei Nthiwa, the managing director of Bola Properties.