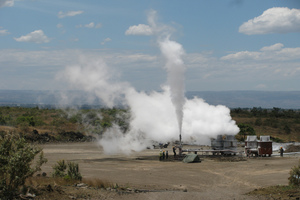 Posted on :Saturday , 2nd December 2017
Johnson Nchoe, Geothermal Development Company CEO Engineer says the first phase of the new power plant in Menengai is in the last stages of development.
In 2015, Kenya injected 280 mw of geothermal energy to the national grid pushing up the installed capacity to 2,327 MW. Geothermal now contributes about 50 percent of electricity in the energy mix, hydro 39 per cent while thermal has been reduced to 10 percent.
Three Independent Power Producers were contracted by the Geothermal Development Company to put up power plants in Menengai to generate 105 megawatts.
The three comprising Quantum East Africa, Sosian Energy, and Or Power were to each generates 35 megawatts. GDC says the first phase of this project is in the last stages of development and would be injected into the national grid by March next year.
The move comes two days after President Uhuru Kenyatta announced that the government would reduce industrial power tariffs by 50 percent effective today as one way of supporting investors.
Works in the Olkaria V power plant are 22 percent complete with KenGen projecting to commission the 140mw plant in July 2019.
KenGen has also completed the feasibility study on the Olkaria Industrial park and the tendering for the project is currently ongoing.