Media/Press Releases
The event is very well advertised and promoted on all platforms as follows :
Email Campaigns

Newsletters

Flyers

Billboards & Hoardings

Road shows

Email Invitations
Kenya's energy Expo Featured by CGTN
NTPC's General Manager Briefs Visitors at 7th Power & Energy Kenya 2018
Kenya's Secretary for Petroleum Opens the Power & Energy, Oil & Gas Expo 2018
7th Power and Energy Kenya 2018- In the Land Of Opportunities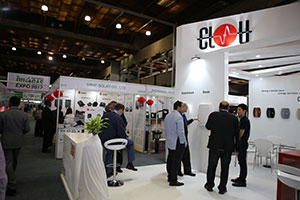 The outlook is strong for 7thPower and Energy Africa, an International power and energy expo for East Africa scheduled to take place in Nairobi, Kenya from 29 to 31 May 2018 at Kenyatta International Convention Centre. With just about 2 months to go, before the opening of the 3 day event, exhibitor participation has been very positive with almost 90% of the targeted 200 exhibitors already showing their commitment. The International participation from countries such as China, Germany, India, Turkey etc has been quiet remarkable and has added to richness of this year's exhibits.

The exhibition will spread over 15 product categories i.e New and Renewable energy, Captive and co- generation plants, Power transmission Equipment, Insulators, Transmission & Distribution Equipments, Geo Thermal, Transformers to name a few.

Participants will include HolzenergieWegscheid GmbH a German based developer/ Manufacturer will showcase wood gasifiers for energy production; From India we have Triveni Turbine Limited displaying their Industrial Steam Turbines; Cyber Energy Co. Ltd The Chinese front runners for UPS Technology and Kenya's very own Icop Cyber Energy Co. Ltd owner Kenya Ltd will display and promote their energy efficiency equipments & services. Besides these we will see many more leading manufactures their respective categories.

Running concurrently will be Solar Africa 2018, showcasing products and equipment specific to this industry. The Event will consist of over 60 Exhibitors displaying their latest wares to thousands of traders and buyers from Middle East, Africa, Asia and other continents. Spreading over 15 product categories that includes Solar Technology and Manufacturing, Project Installations, Solar Panels, Storage/Batteries, Solar water heaters this event will be a site to witness the vital part of a growing technology.

Participants will include Orb Energy Kenya Ltd, Kenya; Waaree Energies Ltd, India; Allied Plumbers Ltd, Kenya; Europe Solar Innovation Co. Ltd, Japan; Hbl Power Systems Ltd,India; Forlink Ventures Pvt. Ltd, India and many more.

The event will also laureate the most innovative products at the expo with awards and felicitation .It will be judged by the organizers and supporting organizations such as the EACCIA, Town and County Planners Association of Kenya and the Ministry of Energy and Petroleum.

Media Manager, Expogroup, Joel D'Silva said "Exhibitors capitalize on the international attendance at Power and Energy Africa to expand their business relations, we also expect this year's event to bring a further rise in the number of international visitors. "Power and Energy Africa is the unrivalled trade fair highlight in 2018, it provides an outstanding opportunity to present ourselves to an international audience with innovative products and a new trade fair appearance. We look forward to a successful event."
Visit: https://powerenergy.expogr.com/ for more information or contact:

Joel D'Silva
Media Manager
Power and Energy  ( East Africa )
Email: @expogr.com
Int'l: +971 43050755 | Kenya: +254 792268513
EVENT ADVERTISING - MOBILE BILLBOARDS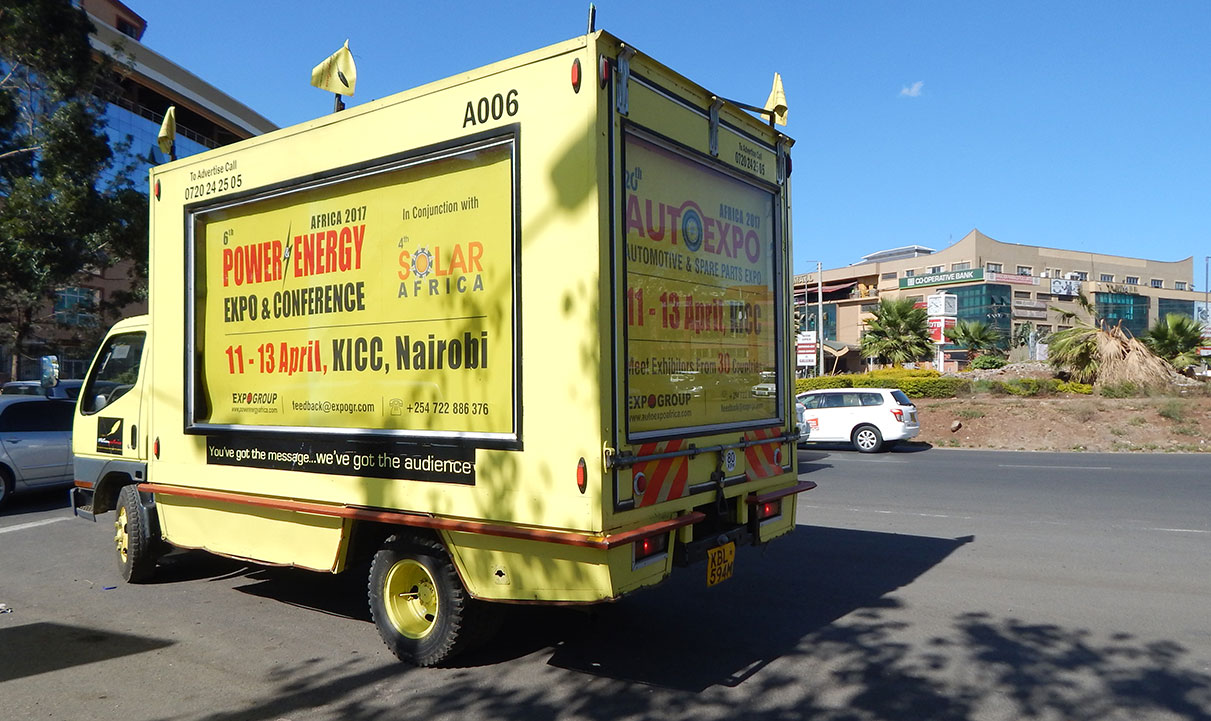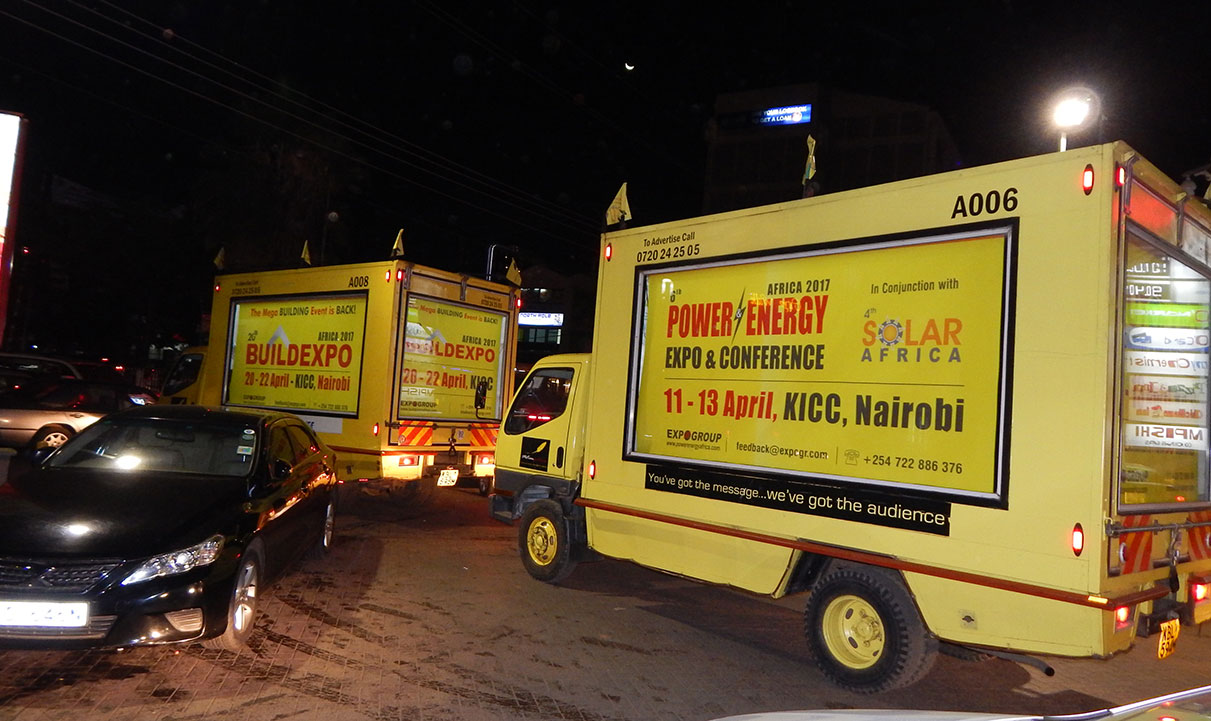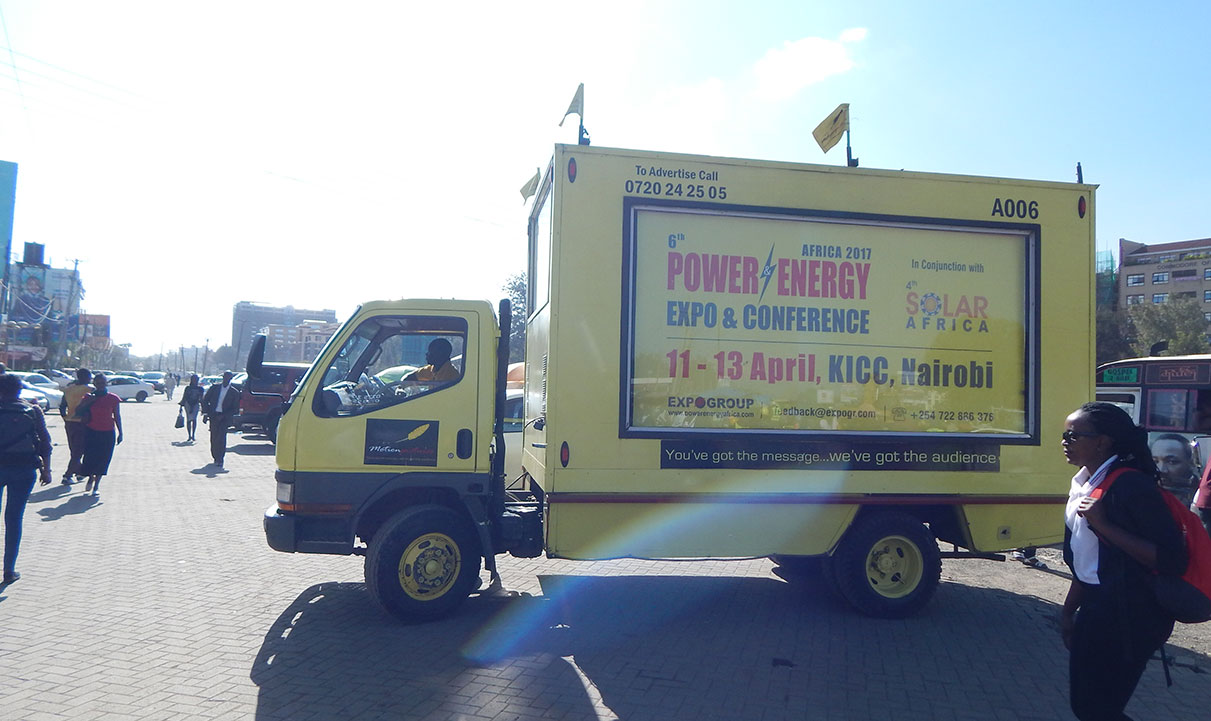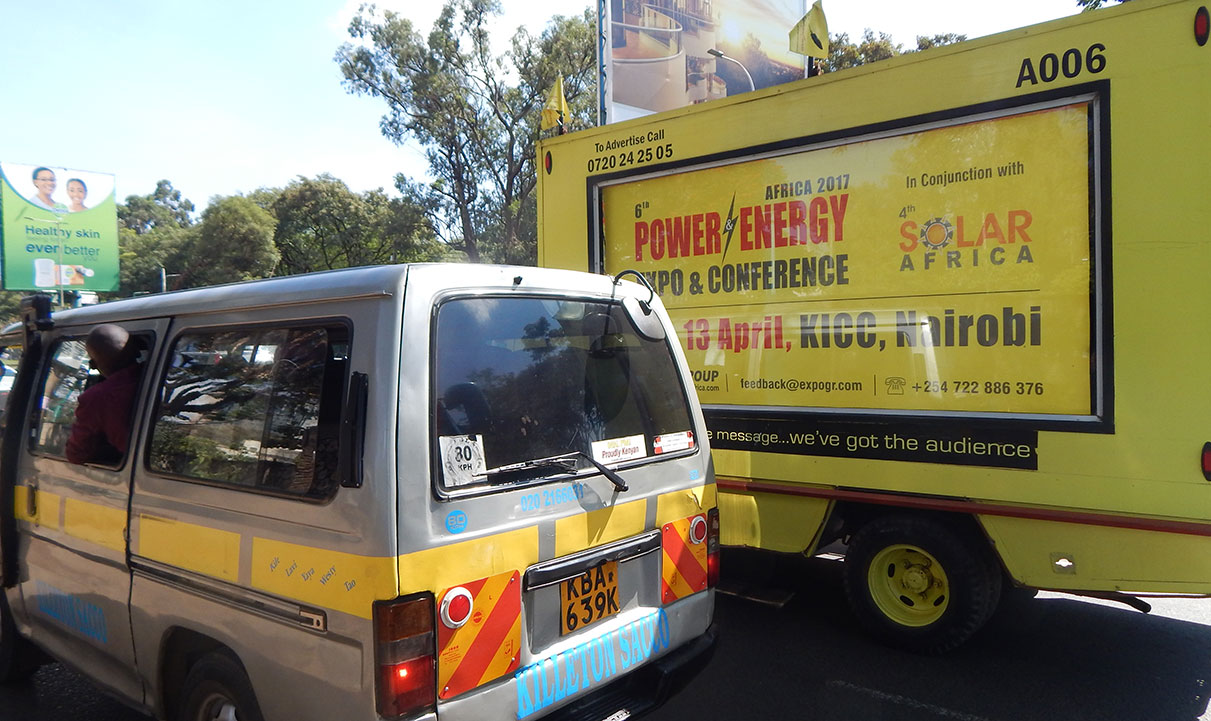 POWER & ENERGY AFRICA 2017: Over 150 Exhibitors from 22 Countries Confirmed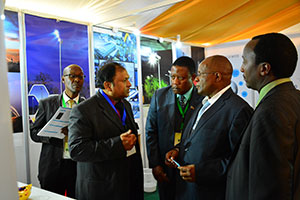 The 6th edition of East Africa's largest and most successful power and energy event, POWER & ENERGY Africa 2017 will have a truly global flavour with exhibitors from over 22 countries already signed up. Over 150 companies from countries such as Germany, Ireland, China, Russia, India, Belgium and Turkey will be participating at the event, showcasing the very latest from the industry, all under one roof.
POWER & ENERGY Africa, organised by Expogroup Worldwide celebrating its 20th anniversary in the trade show industry, will be held from the 11th to 13th April, 2017 at the Kenyatta International Conference Centre (KICC) in Nairobi.
The event will also see a huge regional representation with leading energy firms from Kenya, Tanzania, Uganda, Ethiopia and other East African countries exhibiting and interacting with their international counterparts on the latest trends and developments in the power and energy sector.
Massive country specific pavilions will be another feature of POWER & ENERGY Africa, with over 50 companies registered as part of the China pavilion and more than 30 firms making up the Turkey pavilion.  These pavilions will provide trade visitors with the opportunity to witness first hand products and technologies being implemented in the respective countries including advancements in power transmission & distribution equipments, switch gears, transformers, generators, energy meters and supporting cables, components and accessories.
With the global focus shifting towards renewable energy, Africa has become a hot bed for sustainable energy systems looking to tap the staggering potential available on the continent for clean, green energy. With this shifting focus in mind, POWER & ENERGY Africa will be co located with SOLAR AFRICA - East Africa's exclusive expo for all things solar.
"We received an overwhelming response from the solar industry that prompted us to launch SOLAR AFRICA four years ago. The event has been growing ever since and this year's event promises to be bigger than ever!" says Max Lewis, Director of Sales, Expogroup. SOLAR AFRICA will have exhibitors from Germany, UAE, India, Sri Lanka and China among others, displaying innovative off grid solar solutions to Africa's growing power needs.
POWER & ENERGY Africa will have prominent industry experts, stakeholders and decision makers in attendance along with new product launches and added features, making it an ideal event to source new products, network and usher in new contacts and business opportunities.
Products on display at POWER & ENERGY Africa will include steel lattice towers, supports and lighting poles from CEPAS GONVARRI GROUP (Turkey), diesel generators from RICH MOTOR COMPANY (UAE), high performance thermal imaging systems from SATIR EUROPE (Ireland) & FLIR SYSTEMS (Belgium), battery distributors and PV combiner boxes from HENSEL ELECTRIC (UAE), latest solar modules and inverters from BAYWA R. E. RENEWABLE ENERGY (Germany) and UPS, energy storage systems and load break/transfer switches from SOCOMEC (France).
To be a part of POWER & ENERGY Africa 2017 please visit: https://www.expogr.com/kenyaenergy/
POWERING THE FUTRE OF AFRICA
POWER & ENERGY and SOLAR AFRICA, East Africa's largest exhibition taking place on 11 - 13 April at the Kenyatta International Conference Centre in Nairobi, Kenya; 12 – 14 May at the Millenium Hall in Addis Ababa, Ethiopia; 12 - 14 July at the Kigali Convention Center in Kigali, Rwanda and 16 - 18 August at the Mlimani City Conference Centre in Dar-es-Salaam, Tanzania. The show has not only witnessed a 45% increase in exhibitors as well as visitor attendance over the past two years but has also grown right alongside of the exhibitors, building the trust that is required to ensure the permanence of the event. Expogroup announced the launch of Power & Energy and Solar Africa in Rwanda and Ethiopia on the occasion of their 20th anniversary in Africa.
POWER & ENERGY and SOLAR AFRICA has been one of East Africa's fastest growing sectors. To meet demands, the 2017 events will feature a Conference like never before dedicated to Power & Energy and Solar Sector with renowned speakers from different backgrounds of the Industry.
The recent revival in the region's Power & Energy and Solar sector is expected to increase the demand for electricity in East Africa to grow at approximately 5.3 % each year until 2020. To meet these requirements, generation capacity would have to increase by 37.7 % in Uganda, 96.4 % in Kenya, 75.3 % in Tanzania and 115 % in Rwanda. The governments, in conjunction with development partners, are preparing to build a more favorable business environment to facilitate growth.
East Africa has the potential for a diverse range of energy sources, most of these sources are untapped, including coal, geothermal energy, biomass, solar power and wind and there is therefore a high reliance on hydropower and Solar energy.
It is crucial for global investors to understand the unique opportunities and challenges of the individual countries within the region. Government focus on energy development, will provide a platform for both private and public sector participants to contribute. The private sector is definitely interested in investing; therefore POWER & ENERGY and SOLAR AFRICA provides the platform to showcase finest companies in business and to reap the benefits.
POWER & ENERGY and SOLAR AFRICA is today regarded as one of Africa's most dynamic international Trade exhibitions. Since its inception, Expogroup has envisioned the event to evolve as one of the most awaited and eagerly participated events in Africa. Through committed endeavor and a no-comprise attitude to service, the company has brought that vision to reality. POWER & ENERGY and SOLAR AFRICA is the interactive arm of Expogroup's activities and the event offers an appropriate platform for outsourcing collaborations, explore new business avenues, enhance your current business, look for beneficial tie-ups and will create opportunities for business visitors to interact with International Exhibitors.
Come be a part of this change!!!
POWER & ENERGY / SOLAR AFRICA 2017:
KENYA: 11th – 13th April – KICC, Nairobi, Kenya
ETHIOPIA: 12th – 14th May – Millenium Hall, Addis Ababa, Ethiopia
ETHIOPIA: 12th – 14th July – KCC, Kigali, Rwanda
TANZANIA: 16th – 18th August – MCCC, Dar es Salaam, Tanzania
For more information on these events please visit: https://powerenergy.expogr.com/
Africa's Power & Energy Exhibition & Conference is announced as market continues to attract investment
Africa has experienced massive internal growth in major areas within the last 20 years which have contributed greatly to investors' assets and one area in particular is in particularly high demand and continuously predicting huge returns – the energy market.
It has already had an impact in creating greater well-being to the people of Africa whilst boosting profits for shareholders involved. Due to this massive interest in the African power sector which includes the UN's 2014 'Sustainable Energy for All' programme and highlights Africa as one of the main areas of focus, EXPOGROUP is organizing The 6th Power & Energy Exhibition & Conference 2017 from the 10-12 June, 2017 at KICC in Nairobi, Kenya
The conference and exhibition dedicated to the power generation, renewable and alternative energy & distribution industries attracted delegates and attendees from over 22 countries across Africa and around the world.
We invite you to join us in Nairobi, Kenya from the 10-12 June 2017 to meet and network with Government officials, senior executives and industry players. POWER & ENERGY AFRICA is the leading conference and meeting place to discuss and discover the latest issues, solutions and technologies to meet the future energy challenges in East Africa.
Exhibiting at the largest power event in the industry will allow you to showcase your products and services to the industry's largest gathering of qualified decision-makers.
Trade visitors from all over East & Central African countries are being invited directly and in collaboration with several regional trade bodies in Kenya, Tanzania, Ethiopia, Uganda, Somalia, Mozambique & Congo. Though Kenya by itself is one of the biggest markets in Africa & Tanzania steadily progressing towards the investment & trade market, major emphasis is being laid upon attracting traders and importers from neighboring countries.
For more details view:
https://powerenergy.expogr.com/
Email: