Kenya Power & Energy Market Analysis 2024
Kenya is known to support one of the most developed power sectors in sub-Saharan Africa, as it's market has opened-up to Independent Power Producers (IPPs) like Westmont, AEP Energy Africa (Iberafrica), OrPower4 Kenya Limited, Tsavo Power Company, Aggreko and Africa Geothermal International. Kenyan power sector benefits from various factors apart from an active private sector include Kenya's long track record as a creditworthy off-taker and an abundance of renewable energy sources, especially geothermal, wind and solar.
Kenya is on the cusp of reaching universal access to electricity. Currently, 70% of all energy consumed is from biomass. Petroleum and other sources of electricity account for only 21% and 9%, respectively. The Government has prioritised efforts to shift the energy consumption towards more cleaner and modern forms of energy. Kenya has seen one of the fastest increases in electrification rates within sub-Saharan Africa.
Kenya has made notable progress in deploying renewables in large part because it has successfully attracted the necessary private investment for renewables projects. Further development of these resources would help it meet demand growth.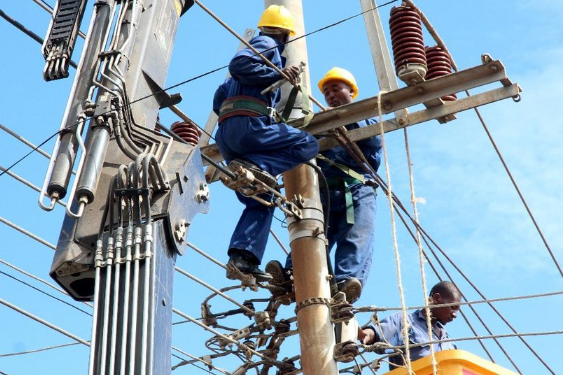 Kenya's current effective installed (grid connected) electricity capacity is 2,651 MW, with peak demand of 1,912 MW. Demand was rises at an average rate of 3.6 percent annually. Electricity supply is mostly generated by renewable sources with the majority coming from geothermal power and hydroelectricity.
As the demand forecast increases there has even been a shift to open up the nuclear sector. The Kenya Nuclear Electrification Board (Kneb) estimated that a 1,000 MW nuclear plant could be operational by 2027 and the plant could be located at either the Indian Ocean, Lake Victoria or Lake Turkana. For Kenya to achieve middle-income status, nuclear energy is viewed as the best way to produce safe, clean, reliable and base load (constant supply) electricity. The projected cost using South Korean technology was US$3.5 billion.
Kenya aims to reach full electrification by 2025. Investment in energy sector amounts to around USD 60 billion through to 2040. Concerted government policy aims to generate energy requirements through grid as well as stand-alone connections in roughly equal measure.