Posted on :Tuesday , 20th August 2019
Kenya is eager to collaborate with Botswana in exploration and production of more green energy to witness the increasing demand for electricity, said an energy official.
The Kenya Electricity Generating Company (KenGen), CEO, Rebecca Miano, said that the power producer was prepared and keen to offer Botswana expertise in various sectors of electricity producti. . .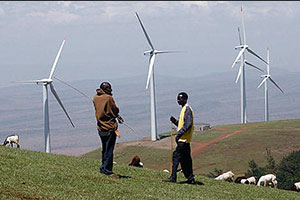 Posted on :Monday , 19th August 2019
Kenya progresses to make giant strides in its adherence to renewable energy. It has disclosed Africa's biggest wind power project in a gusty and rocky desert stretch located 600 kilometers (372 miles) north of the capital Nairobi. The Lake Turkana Wind Power farm includes 365 turbines with a capacity to dispense 310 megawatts of reliable, low-cost energy to Kenya's national grid.<. . .