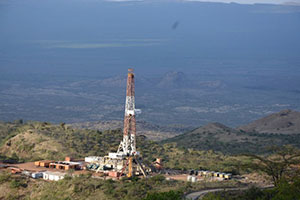 Posted on :Wednesday , 2nd October 2019
Kenya's Geothermal Development Company (GDC) has disclosed that drilling of the Paka Well in Baringo County, Kenya has been completed successfully. Drilled for the Baringo-Silali geothermal project, a total of six wells are to be the basis of geothermal development at Baringo-Silali.

Kenya's aim to increase its geothermal projects across the country seems to be on the right track after its first well out of the six wells meant to be constructed in the Baringo – Silali geothermal project showed signs of geothermal presence.

GDC Managing director Johnston Ole Nchoe mentioned that once completed the Baringo- Silali geothermal project is expected to creat 300 MW of power and will be critical in further lowering the cost of electricity in the country and drive the big four agenda.

The Baringo-Silali project covers three geothermal prospects of Silali, Paka and Korosi with drilling and exploration of the field will be done in three phases with each well expected to produce 100 MW.