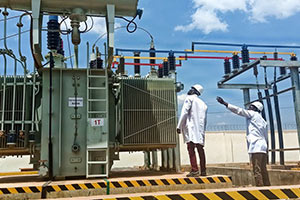 Posted on :Monday , 16th December 2019
Construction of the Murang'a substation in Kenya nears completion. Kenya Power Company (KPC) Manager, Eng. Harrison Kamau, confirmed the report and said that the project will be completed and equiped for commissioning by end of December.

The 7.5MVA substation aims to strengthen power supply in Murang'a. It is being subsidized at Kenya Power Company (KPC) at a cost of US $3m. At present it is at 65% completion. It is projected to boost power output in the area and ensure stable electricity supply in an area of 40 kilometer radius.

Gatanga Sub County, Gatura area and some parts of neighbouring Kiambu County are some of the project beneficiaries. The substation will raise power capacity to support connections of more than 7,000 homesteads.

"When the substation is fully complete, it will ensure stable power supply and support building companies around the area. Power blackouts will be reduced. The government is also implementing several power projects in the County, which will lead to universal homestead electricity connections in year 2022," said Eng. Kamau.

"Electricity power connectivity in the county currently stands at 51.1% and the government plans to gain 100% by 2022. We have introduced several projects which are funded by the national government at a cost of US $20m and we are determined we will accomplish targeted power connection in this county," Kamau added.