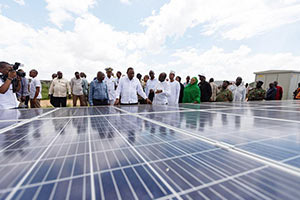 Posted on :Monday , 16th December 2019
Kenyan President Uhuru Kenyatta has launched a 50 MW solar power farm located in Garissa, northeast region, with the plant being one of the largest photovoltaic electricity stations in Africa.

The project was designed and constructed by the EPC contractor China Jiangxi Corporation for International Economic and Technical Co-operation (CJIC), in conjunction with Kenya's Rural Energy Authority (REA).

The solar plant puts Kenya on the path of accomplishing green energy sufficiency as the east African nation also runs one of the biggest wind farms in the continent.

The plant, which is a large solar energy installation in East and Central Africa, adds to Kenya's rich profile as the epicenter of green energy generation in Africa, Kenyatta said during the launch.

At the launch, Kenyatta noted the power plant which is near the border with Somalia is part of a broad government renewable energy strategy to harvest 400 MW of electricity from the country's vast solar resources.

Kenya is rich in solar energy with an annual accessible amount of solar radiation and has a wide prospect of solar energy development.

The project is meeting power demand of 70,000 households (some 350,000 people) in Kenya, equivalent to some 50 percent of the population of Garissa.

Garissa's local economic growth is expected to receive a boost from the new power source, relieving environmental stress.

Kenya has over the years been highly dependent on hydropower, which shares about 50 % of the power supply mix. In the dry season, the constraint of hydraulic power generation capacity has been seriously affecting the national power supply.

The developing of solar energy is in accordance with Kenya's national policies of environmental protection and energy-saving.