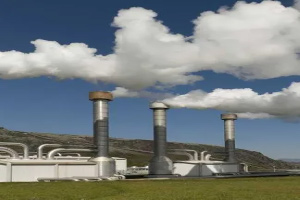 Posted on :Monday , 25th July 2022
This is it. Unit 6 of the Olkaria I geothermal power plant is now operational. The announcement was made by Kenya Electricity Generating Company (KenGen), which has successfully completed the production tests of this new geothermal power plant with a capacity of 83.3 MWe. The facility is located in the Hell's Gate National Park in Olkaria, Nakuru County, at the eastern end of the Eastern Rift Valley, about 43 km southwest of the nearest town, Naivasha, and about 122 km northwest of Nairobi, Kenya's capital.
Construction took a few months, followed by a production test period that began in April 2022. KenGen contracted Marubeni Corporation to build Olkaria I Unit 6. The Tokyo, Japan-based company has teamed up with its compatriot Fuji Electric Global to supply and install the turbine in the steam plant.
The output from Unit 6 of the Olkaria I plant is fed into Kenya's national power grid. "Today, geothermal power accounts for up to 39% of KenGen's total installed generation capacity. With the additional 83 MWe, geothermal is expected to increase from the current 713 MWe to 796 MWe, bringing KenGen's share of installed geothermal capacity to about 42%," says the company, which claims more than 2,500 employees.
This new unit further diversifies Kenya's electricity mix. Currently, the East African country has an installed capacity of 2,819 MW, according to Power Africa. Of its electricity mix, 828 MWe comes from geothermal plants in the west of the country. Geothermal energy is thus taking over from fossil fuels, which now supply only 749 MW to Kenya Power's electricity network. This is ahead of hydroelectricity (826 MW) and other clean energy sources used in the country.