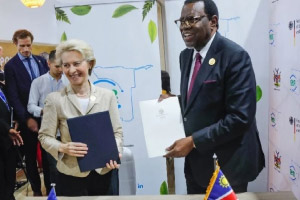 Posted on :Wednesday , 25th January 2023
Kenya recently inked a deal with an Australian firm to establish a green hydrogen and ammonia plant, kick-starting the country's plan to utilise green energy across the continent.
The industrial-scale production of green hydrogen and ammonia will be vital in making clean, affordable fuel and fertiliser for Africa. Further, it will help Kenya, which is already leading a geothermal revolution across Africa, increase its footprint in the renewable energy market.
Kenya's deal with Fortescue Future Industries (FFI), which has an expansive portfolio in green hydrogen and renewable energy projects worldwide, was signed on the side-lines of the 27th Conference of Parties (COP27) to the United Nations Framework Convention on Climate Change in Egypt.
Kenya plays a leading role in the renewable energy sector, with its geothermal capacity (863 MW) ranked top in Africa and 7th globally, according to The International Renewable Energy Agency's Renewable Capacity Statistics 2022 report.
Kenya President William Ruto signed the deal with the FFI Executive Chairman Andrew Forrest. The company will set up an initial 300 MW green hydrogen and ammonia plant in the next 3 years, which will also produce fertiliser. The project will be expanded in the future, with a target of adding 25 MW.
Ruto said:
There is nowhere more crucial for us to mark the public beginning of this relationship than here at COP27 in Sharm El-Sheikh, where we want to see actions not words. Kenya is a leader of renewable energy in Africa and we look forward to the partnership with FFI to accelerate the worldwide energy transition for the benefit of the continent.
The multiplier effect of the hydrogen deal will include job creation and increase food security through its fertiliser production, said Forrest. He emphasised FFI's commitment to helping Africa reduce reliance on fossil fuels.
The latest move has an estimated yearly output of 1.7 million tonnes for export. This will help Kenya join other continental early adaptors like Nigeria and South Africa to build Africa's hydrogen and ammonia capacity.