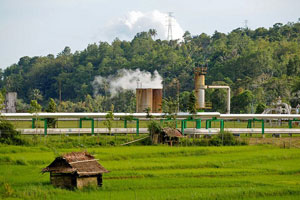 Posted on :Thursday , 27th July 2017
The finance from Climate Investment Funds (CIF) will develop the Ngozi geothermal steam field in southwestern Tanzania and "ultimately showcase the technology's broader potential in the country's energy transformation", the African Development Bank (AfDB) said.
The project is funded under CIF's Scaling-up Renewable Energy Program (SREP). Tanzania will receive $5m as loan and $16.73m in grant resources to be implemented by the AfDB.
AfDB's senior climate finance officer and CIF coordinator Leandro Azevedo said the move would help "in the first step in the transformation of Tanzania's energy sector, a transformation that is being built on a sustainable energy source".
"Developing geothermal capacity in Tanzania is an essential part of that transformation and we hope that this project's success will lead downstream to the installation of a 100-megawatt power plant and help create the conditions for the development of other geothermal sites in the country," Azevedo said.
According to the AfDB, Tanzania "has made significant economic and social progress over the past 20 years and is today one of sub-Saharan Africa's best economic performers". "However, the country still wrestles with poverty and an under-developed, with half of its electricity being generated by fossil-based technologies and half from hydro."
The AfDB said Tanzania has committed to transforming its energy sector through a more diversified mix of technologies tapping into its renewable resources. "Geothermal energy is particularly a promising technology for the country, which has around 15 geothermal sites with an untapped estimated potential of 650 MW," the bank said. "A sixth of this potential can be developed in the Ngozi site."
The project involves conducting exploratory test drilling and installing the required steam-gathering infrastructure in the Ngozi geothermal site.
The "highly concessional" SREP finance will help to mitigate the high-risk nature of geothermal prospection and field development, the AfDB said. "Ultimately, the project is also expected to have transformational effects not only on Tanzania and its energy sector but also more broadly in the African Rift Valley region."
Once fully operational, Ngozi is expected to not only boost power supply but increase energy security, public and private investment and benefit homes and businesses.
The government-owned Tanzania Geothermal Development Company Limited (TGDC) was set up as a subsidiary of the state Tanzania Electric Supply Company Limited in December 2013 to spearhead development of geothermal resources in Tanzania.
In 2015, Tanzania signed a cooperation agreement with the Icelandic government to support geothermal development in Tanzania.
According to the Tanzania Development Vision 2025, geothermal energy could help to power industries in an environmentally-friendly way as the country moves towards meeting development goals.
Tanzania has an increasing need to boost domestic electricity production. In 2015, the Sustainable Energy Fund for Africa (Sefa) approved a preparation grant for the development of a number of "solar-hybrid mini grids" in rural growth centres in Tanzania.