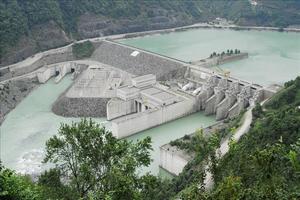 Posted on :Friday , 8th June 2018
The government has vowed to go ahead with its plan to build the 2,100MW Stiegler's Gorge energy generation project.
Subira Mgalu, Minerals deputy minister recapped the government's stance in Parliament during the televised Questions and Answers Session when responding to a question by Kawe legislator Halima Mdee-(Chadema).
In her question, Ms. Mdee sought to know how power generation using natural gas has contributed to meeting energy needs of the country, and whether there were specific dates for the kickoff of the Stiegler's Gorge power project.
The opposition MP also demanded to know why natural gas utilization stood at 5 percent.
She asked the government to come with clear answers on the failure to transport the remaining 95 percent of natural gas using the pipeline that did cost the nation millions of dollars for construction.
Responding, Ms. Mgalu said the country cannot sustain its electricity demands depending on one source, noting that water, natural gas, and other sources should collectively be used to meet the country's needs.
"Stiegler's Gorge power project has come at the right time since the government plans to produce 5,000MW of electricity to sustain its industrialization agenda. Hydroelectric power generation is cheap requiring only Sh36 per unit as compared to natural gas power generation that needs Sh147 per unit," she said.
She said the government intended to produce power at a low cost to make it affordable to all as well as support industrialization.
Ms. Mgalu said though over 50pc of electricity generated in the country came from natural gas, other sources of electricity production should be effectively used to meet the country's needs.
According to her, the government was implementing natural gas power generation projects in Mtwara and Somanga Fungu expected to generate 300MW and 330MW of electricity respectively.
Currently, 175 million cubic liters of natural gas is transported through the pipeline as compared to 145 million cubic liters transported during the 2016/17 fiscal year. This suggests that natural gas demands have drastically increased in the country, she said.